Ways to help out:

Whether you need a dog sitter, a dog walker, or daycare, Rover connects pet parents with people who'll treat their dogs like family. And with over 92% of the population living within a short drive of one of the 40,000 sitters who've listed their services on Rover, it's easy to find a sitter you and your dog will love.
Wichita Pug Rescue receives a donation when you book your service with Rover!

https://www.rover.com/about-us

https://www.rover.com/wichita--ks--dog-boarding/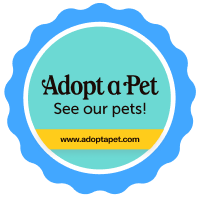 Good Dog Training Advice

Get Fast & Simple Dog Training Tips to
Turn a Difficult
Dog Into an Obedient Pet!
"
http://gooddogtrainingadvice.com
">
gooddogtrainingadvice.com
<
PLEASE LIKE AND FRIEND US ON FACEBOOK for instant updates on Wichita Pug Rescue Facebook


HELP WICHITA PUG RESCUE WIN MONEY FROM ASPCA!
Go to www.aspca.org/150days

ASPCA IS CELEBRATING THEIR 150 YEAR ANNIVERSARY!!

They are asking people to post their actions for animals and then voting for your favorite rescue. It runs until September 7th.







WICHITA PUG RESCUE AT WICHITA STATE UNIVERSITY FOR PET A PUPPY (pug) DAY!!

WPR was again asked to provide stress relief for WSU students during finals week. Here is the link to article, pictures and video:-)
Wichita State University Stress Relief




__________________

WICHITA PUG RESCUE HAS SHIRTS!!
$15 each. Med fits chest 42", Large 44" and Xlarge 50" chest. Tagless Hanes 50% cotton 50% polyester. You can purchase through our paypal button to the right or by check or cash. We can mail the shirt for $2.00 or if local, we can meet to drop off.



The picture on our shirt is our first rescue Pug. Petunia spent the first 7 years of her life in a puppy mill cage. We were lucky to have her with us for 8 wonderful years:-)

LOST & FOUND:



If you are interested in fostering a pug, please click the link in the heading for an application. Foster homes are always needed in the Wichita area. All you need is a loving temporary home until a forever home can be found. All the foster pug medical is paid by Wichita Pug Rescue, Inc.


RELINQUISH:

If you need to relinquish your dog, please contact us at wichitapugrescueks@gmail.com and we can arrange for pick up.


CONTACT INFO:

wichitapugrescueks@gmail.com